Last updated on April 25th, 2021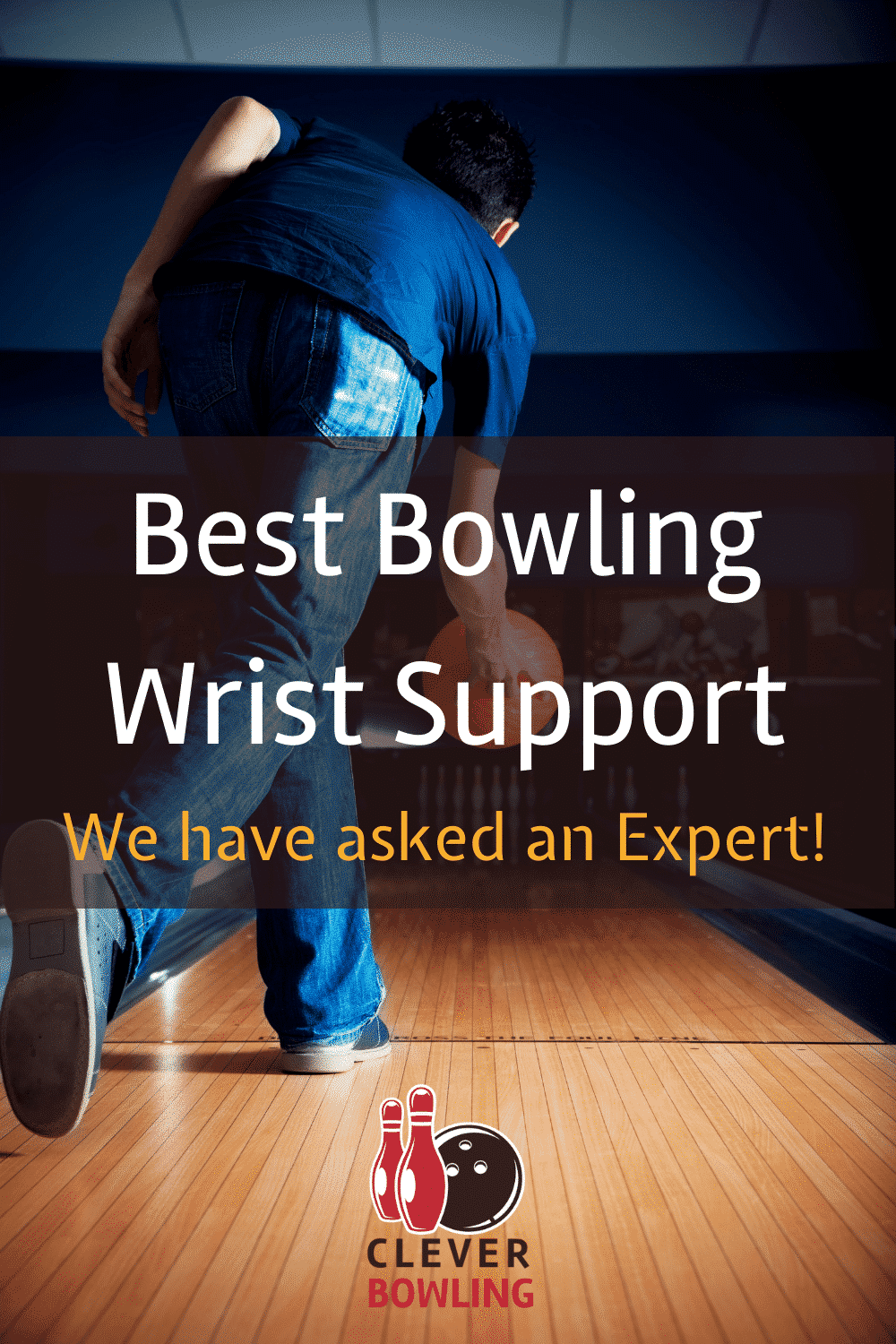 Bowling puts a ton of strain on your joints, and the wrists are especially susceptible to damage when playing over the long run.
The game is quite tough, and damages could definitely ruin your career if you do not have the right support. However, this might not be a common problem in new players. As you get older, the problem could definitely have a major impact on your overall game.
Since the game's equipment has such an appealing look for me, I need to understand more about all the smaller and finer details.
The wrist support is not something I personally prefer playing with, but since it could have a major influence on the game and help with your technique, I found a few that I could give a go and see whether they work or not.
Here are Top 3 picks for the best bowling wrist support:
Best Price
Best Pick
Best Quality
bowlingball.com Kool Kontrol Bowling Wrist Positioner (Large, Right)
Mongoose Lifter Extra Small Right Camo
Robby's Revs III Right Positioner, Medium
Best Price
bowlingball.com Kool Kontrol Bowling Wrist Positioner (Large, Right)
Best Pick
Mongoose Lifter Extra Small Right Camo
Best Quality
Robby's Revs III Right Positioner, Medium
7 Best Wrist Support for Bowling in 2022
While the testing process was rather daunting, and there are many options to choose from, including a simple brace or just tape wrapped around your arm, these supports could positively impact your overall game.
By testing these different support apparel, I could see exactly how much of an impact they would have on my overall game:
With a glove-like design, the  Kool Kontrol Wrist Positioner is constructed to wrap around your hand completely and give you the utmost support you might need when bowling.
This wrist support is made from tough fabrics, and they tend to keep your hand correctly positioned whilst going through the complete motion.
Metal supports have been added to the front and the back of the support, and these will definitely enable you to keep your wrists straight and deliver the ball a little more accurately as you play.
The Velcro strapping will enable you to adjust the fit to be completely accurate and put you in control of playing the game.
Using this wrist strap is fun and easy, and you need not spend too much time putting it on and finding the correct fit for your needs.
I used this one for quite a while to see if I feel any pain, and thanks to the design, all pain is easily alleviated to make the support as comfortable as possible. It also offers you some decent ventilation whilst playing.
If you are looking for something affordable to help you with your game, this wrist support will definitely be what you need. It is straightforward to use and does not frustrate you due to the buildup of heat.
I would certainly recommend this wrist support for the value it offers and the really affordable price tag.
PROS
Really affordable
Comfortable design
Offers excellent ventilation
Easily adjustable
CONS
The materials do lack some durability
---
Durability is something you can be assured of with the Mongoose "Lifter" Bowling Wrist Band Support Brace.
It is quite large and will cover the entire span of your wrist and some part of your arm as well.
It is also rather lightweight, and with no metal included, you will need to have it secured a little more tightly to have your hands fully protected.
Velcro has also been used to offer you some adjustability, and you could definitely find the wrist strap to keep you protected from any damages when it is worn the correct way.
It is also available in three different colors, meaning you could find one for you and your wife to match your different wardrobes.
The biggest problem that I personally found with this wrist strap is the sizing, and when compared to many of the others, this one is quite large and covers a larger part of the hand.
This will be beneficial, but it will restrict the ventilation, and I found my hands to be extremely sweaty and heated after using it for long playing periods.
This wrist strap is also somewhat more expensive than some of the others you will see. Yes, it offers great durability, but not as much comfort when protecting your hands if you are not injured.
Ideally, this wrist strap should be the best option for someone who already has a wrist injury that they need to get rid off.
PROS
Excellent durability
Easy to use
Offers great support
Easy to adjust
CONS
Rather expensive
Lacks ventilation
---
The Robby's Revs III Right Positioner is designed for those with injuries or sensitive wrists that might be a major issue as you play the game.
It is constructed from durable materials, and the design seems rather solid as well.
However, I found it to be somewhat heavier than the fabric alternatives that you might choose.
With an extended finger accentuation, the wrist support offers you more revs and the ability to add more spin to the ball as you play.
While this might not mean much for the beginner, the advanced player will find this helpful if you have a wrist injury that you need to deal with. The strap is also fully adjustable, and you won't struggle to find the right fit.
Using this one did not do much for my game, as I found it somewhat uncomfortable.
If you feel like this is the wrist strap for you, it is worth noting that some training will definitely be required to get the best possible effects and results.
It also lacks some ventilation that could cause hands to be rather sweaty as well.
In terms of the price, this support is rather expensive, and you will need to shell out a couple of bucks if you choose to use it for your game.
It will be a great option for the professional players, but beginners will be much better off sticking to a fabric support that is easier to play with from the get-go and does not require breaking in.
PROS
Extremely durable
Offers great support
Easy to adjust
Adds to your game
CONS
Really expensive
Lacks ventilation
---
Next, we have the Storm Xtra-Hook Wrist Support, and this support is designed to make life easier for you as a beginner or intermediate player.
Made from fabric materials, it is rather lightweight and easy to adjust as well.
It will keep your hands from bending and causing some significant damage to your wrists and the position.
Velcro has once again been used to adjust the strap, which will make it easier to find the right fit in the middle of the game if you need some adjustments.
It also does not cover such a large part of the arm/hand, and this could potentially offer you some ventilation when you play extended periods or when training.
I like this glove is the finger positioning system, and thanks to the overall design, the glove allows you to get some extra lift.
This led to some more power in my shots, and as a beginner, you basically focus most of your game on the power aspect. The glove also does not need any break-in time, and you can use it whenever you feel the need.
For what you receive, the support has been priced relatively well. It might not be the most affordable wrist strap on the market today but will surely not force you to break the back in any real way.
I would recommend this wrist strap to all beginners as well as intermediate players looking for some added support for their game.
PROS
Durable and lightweight design
Extremely comfortable
Reasonably priced
Easy to adjust
Great ventilation
CONS
The sizing is a little large
---
Brunswick is not a new entrant in the market; in fact, it's a pretty well-known and trustworthy brand. The Bionic wrist positioner by Brunswick truly lives up to the brand name and helps you to up your bowling game. Also, it prevents muscle strain and keeps pain at bay.
When you're bowling, your technique and wrist position is of utmost importance. Furthermore, even slight variations can affect your game. Thus, this wrist support pad is built with high-quality material. 
Not only does it prevent injuries and sudden jerks, but it also helps you maintain the correct wrist position with added support.
At an affordable price, it offers you durability, comfort, and protection, all at once. It's made from durable aluminum, which makes it sturdy yet lightweight, despite the strength and stability it gives you. 
Moreover, you can effortlessly rotate and position the ball as per the requirement of the game.
There is also a feature of extended finger support, and it specially caters to strength and stability. Also, it's pretty useful when you have a heavy ball on your hands, even if there is excess oil on the alley. Along with eliminating the pain, you can make lateral adjustments too.
It's easy to angle and keep your wrist in position, as you can alter your ball's side roll. Since it allows quite a bit of fine-tuning and is non-rigid, you can use it for various types of bowling alleys. 
Besides, it's adjustable, and you can adjust the lateral positions and use the multiple wrist cups provided.
You can tune the position of the forward cup without much hassle and create the perfect angle and grip. Resultantly, you can boost your score in different lane conditions and even in situations involving different frames. 
Most importantly, you can tune the forward cup to provide you with added rev-control.
PROS
Durable aluminum accords stability, durability, and comfort
Provides extended finger support
Numerous lateral adjustments
Facilitates painless bowling
Easy to slide on and off
CONS
Takes a lot of time to fully adjust
---
The Mongoose "Optimum" bowling Wrist Band Support is a slightly more affordable top-of-the-range wrist brace. It has been designed from materials instead of hardened plastic to give you the same amount of support power you will need when bowling.
It is also much lighter than some of the other high-end braces.
Using Velcro straps instead of screws for the adjustability makes it easier to adjust the strapping once you feel the need during the game.
The material design is also much more comfortable around the arms and wrist and will enable you to easily turn your hands if needed to get some spin on each of the bowling balls.
I like the fact that this wrist support is also rather durable instead of only being lightweight.
It is much easier to adjust, and since it feels like any normal fabric brace would be around your hand, it can be that much easier to get used to when playing.
The induced finger design enables you to get the perfect throw-off without any real troubles.
Since it is a high-end brace from a high-end brand, it is expected to be rather expensive.
However, it is much more affordable than some of the other top brands and this does make it a great option if you need a budget option for your game. I would certainly recommend this to beginners and intermediate players.
PROS
Great durability
Offers excellent comfort
Easy to adjust
Lightweight
---
Last but certainly not least, we have the Brunswick Powrkoil XF Wrist Support, and this supporting brace has been constructed from top-quality aluminum.
It might be a little heavier than fabric but still light enough to not cause fatigue during your games that will hinder the game's quality.
The wrist support is also rather large and covers a large part of your hand.
The adjustment can be an issue, and once again, screws are used for this process.
You will need to have it adjusted beforehand to ensure that the brace is comfortable and the fit is correct.
However, once this is done, the brace seems to fit like a dream, and you will not need to worry about any additional problems.
I found this brace rather tough getting used to, and you will need to put in some time whilst training if you are to use this during game times.
The other downside is the lack of ventilation that I felt when using the brace, and this really seemed to be an issue for me. I would not use this brace unless I had some serious injury or wrist issue that I need to deal with.
It is also worth noting that this is one of the more expensive wrist braces on the market today. You will certainly need to dole out a couple of bucks if you are to use it, and this will not be the best option for beginners.
I would definitely recommend this to older and more advanced players with an injury and still looking to add some power to their game.
PROS
Extremely durable
Offers great support
Easy to adjust
Adds to your game
CONS
Quite expensive
Takes time to adjust
---
Key Features to Consider When Choosing a Bowling Wrist Brace
There are certainly a few features that you will need to keep in mind when selecting one of these braces. It is not that easy to walk into a shop or go online and choose one that will meet all of your specific needs.
These features should help you when it comes to making a decision and finding the best wrist brace for you:
Durability
Some of these braces can be rather expensive, which means that you will need to have a lot of money available for all of your bowling equipment and needs.
The durability is something that you always need to look at, and this will be dictated by the type of materials used in the construction of the products. Fabrics might be lightweight, but aluminum is much more durable and stable.
Adjustability
You will need to adjust the wrist support from time to time, and this is definitely something you need to look for when selecting one of them. Fabrics are easier to adjust, and with Velcro strapping, this can be done in a matter of mere minutes.
The more advanced aluminum wrist braces will take some more time, and you will need to remove the screws and change them.
Comfort
Since these braces will have an adverse effect on your game, and they will be used during the games, comfort is another major aspect to take into account.
It is no secret that fabric is much more comfortable than aluminum, but you need to ensure that the fit is correct. We recommend looking at the sizing charts to have the right size when you choose one.
Ventilation
If you don't like taking off the wrist support between games, you should consider ventilation as well. If the brace does not offer adequate ventilation, it might be uncomfortable for you to wear, and this could also cause some sweat.
The sweat will drip down onto your hands, affecting the game you are playing.
Final Verdict
Now that you have a better understanding of these braces and what makes them unique, you should definitely choose the right one that meets your specific needs.
We want to stand by all of these braces, and as you will see, they are designed for specific players and specific purposes. Some of them are even multifunctional.
We want to thank you for reading this article, and we would also like to encourage you to share some of your thoughts on these braces.
Please let us know in the comment section if you have ever used any one of them, and also let us know if we might have missed any other of your favorite wrist braces that you might use.