Last updated on April 25th, 2021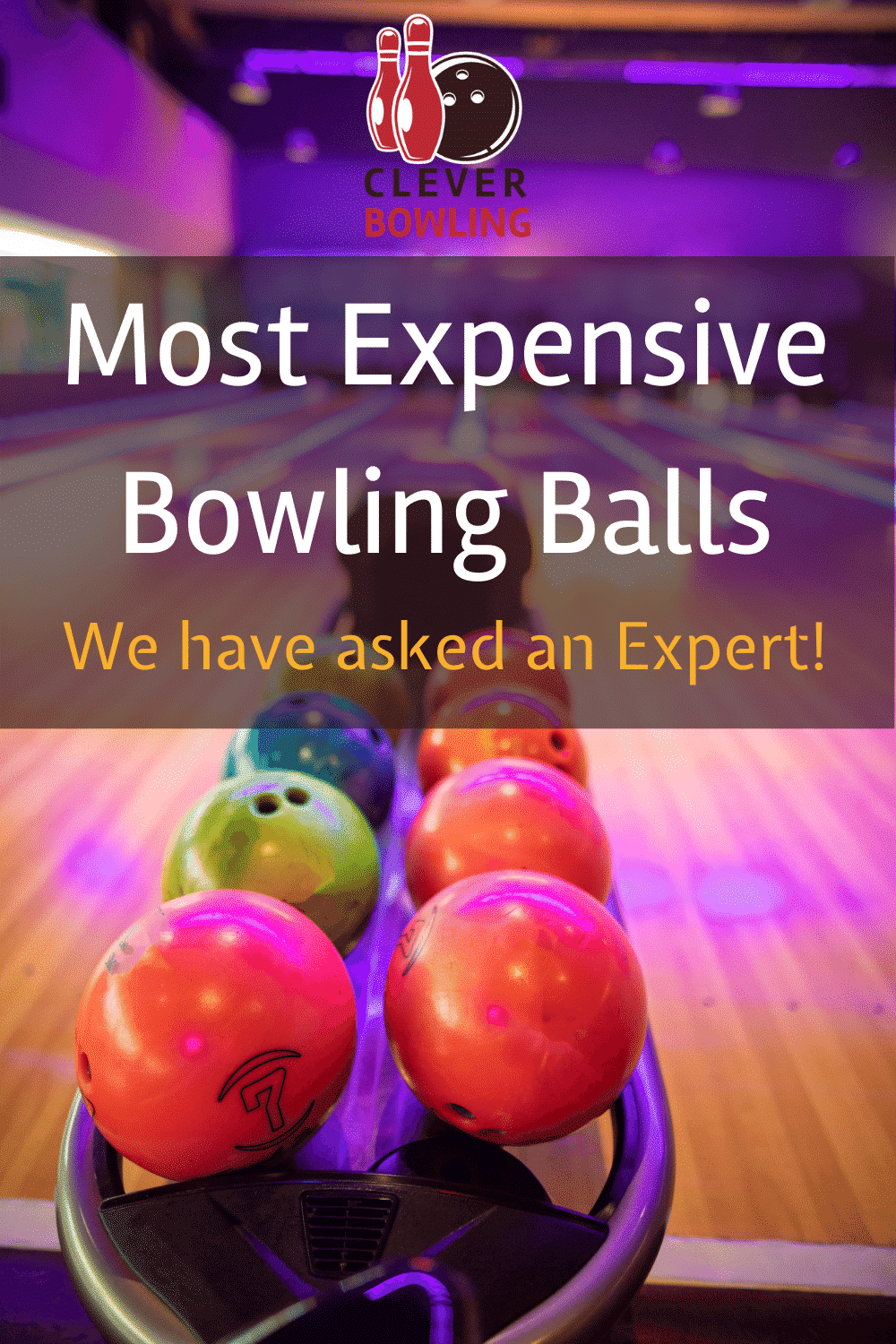 Did you know that bowling with the right ball actually improves your game? If you ask any expert, you'll hear them say that the right ball with the right feel is an investment.
If you want your game to improve, then you'll need to shell out some money. Honestly, the most expensive balls are actually the ones that can give you the best runs.
If you're looking for the most expensive bowling balls that are worth the money, then check out our list. To make things easier, we have provided a simple buying guide so you'll know how to choose bowling balls if you're a beginner.
Most Expensive Bowling Balls in the World
The first on the list is a very high-performance ball called the Storm Intense Fire Bowling Ball that kick-started the original intense fire series with a few improvements to its credit. 
The most prominent innovation is the improved traction you get in medium to heavily oiled lanes. Also, you'll get high-quality and boosted back-end reaction with this ball, along with better hook potential.
Quite evidently, it's a great bowling ball to help you elevate your skills and improve your scores. The angular reaction of the ball on most lanes is also pretty explosive, making it a top pick for any avid bowler. 
However, it's best to use it in lubricated lanes and avoid dry lanes, as the performance might not live up.
In moderate to highly oiled lanes, you'll get a solid and smooth sail without any compromise on the control or length. 
The RAD-E core is asymmetrical, just like most high-performance balls, and it houses a substantial amount of energy. Resultantly, you get a high differential core with a low RG release and the perfect glide. 
It also has a polishing box factory finish of 1500 grit Abralon, which accords it the much-needed control and length. The cherry on top is the Ultramarine/ Persimmon/ Black color options, which look as good in action as they do on a shelf. 
However, unlike the other models by Storm, it's not made using the reactive pearl cover stock.
Instead, it consists of an R3S Hybrid reactive cover stock with a relatively shiny finish. The lustrous finish helps with the mid-lane reaction, which is extremely helpful to any experienced bowler. Besides, it has a 6-inch plus high flare potential and asymmetrical weight block. 
That, combined with a lightweight core, take this bowling ball by Storm to the brink of perfection. Also, the RAD-E core, with its dual-density disc technology, helps increase the separation of mass. 
Even the R3S hybrid cover stock caters to the ideal consistency due to the increased aggression. 
PROS
High shell porosity
Asymmetrical RAD-E core
Improved traction on generously oiled lanes
Worth the cost
Great length in ideal lanes
Blends out the lane transition
CONS
Not that ideal for those who want a heavier ball
Not as effective on dry lanes
Although faster, the hook isn't as strong as the Code Black
---
If you pick the right bowling ball, your game can improve by leaps and bounds. Thus, the Hammer Web Tour Edition bowling ball is designed with a Tour V1 cover stock and offers you substantial length. 
The modified Spheroid TE core is quite strong and one of the best Hammer has to offer. 
The cover stock combined with the symmetric Spheroid TE core caters to better mid-lane performance. In addition to that, it also provides a great angularity and reaction from the backend. The best part, however, is that you get a 2-year warranty from the purchase date.
The web tour edition ball was already great, but the hybrid edition has taken it a notch higher. Also, the core is symmetrical, and the ball has a 500/ 1500 Siaair Micro Pad polishing with a phenomenal finish. However, this makes it ineffective for highly dry lanes.
It's best if you use it on medium to highly oiled bowling lanes for maximum efficiency. Additionally, it comes with a solid and continuous backend reaction with 12 pounds of weight. 
Rest assured, all these specifications together accord you high-quality motion and impressive strength.
Owing to the hybrid spheroid TE core, you have a substantial amount of control over the ball, and it's also pretty durable. The shiny exterior is only an added touch to make it stand out and turn heads. 
Despite being a looker, you'll be able to take strong shots with its assistance. 
Another impactful design feature is that the ball's cover stock is wrapped with perfection evenly. That, in turn, contributes to the balance of energy in the ball, and it also comes in blue pearl/black color. 
Furthermore, you can opt to tough scrub this Hammer Web Tour edition hybrid ball to maintain its performance.
Although it'll take some getting used to, after some practice, you'll not only master the ball's motion but also bowling. Moreover, when you compare its performance with its price, you'll find it to be quite a steal and cost-effective. 
Not only is it reliable, smooth, and attractive, but also durable.
PROS
Symmetric TourV1 hybrid cover stock
Polished 500, 1500 Siaair Micro Pad finish
Highly reliable on lubricated lane
Smooth and easy-gliding
CONS
Not apt for dry lanes
You must tough scrub diligently
---
This is another great ball from Storm that uses a different mechanism than the Storm Code Red ball.
What's interesting about the Storm Drive Bowling Ball is that it uses the Dual Drive Symmetrical core shape.
Aside from the Dual Drive core shape, it also has a differential core with an RS2 Nano Hybrid coverstock, making it very strong and powerful, allowing it to cover the ground really fast.
What we love about it is that it works very well for the heavier oil lanes. So, if you're more into those types of patterns, the Storm Drive ball is most likely a great choice to have.
Another thing that we love about this ball is its look. It's not too flashy yet not too dull. It's got the right mixture of colors consisting of gold, black, and red blended so that it looks pretty classy.
Also, it has a 3000 Abralon finish making it quite adequate for rugged and rough bowling conditions. Concerning rollability, it speeds up quite fast as it rolls.
You'll probably find it a bit slow at first, but when it goes down the lanes, you'll find that it rolls pretty well once it picks up the pace.
PROS
Dual drive core to enhance the strength and heaviness of the ball
Beautiful combination color
R2S Nano Hybrid coverstock
Superb rollability in the mid-lane
Very fast revving when rolling down the lane
It has a fragrance of citrus mint
Symmetrical built ball for more balance
CONS
Quite heavy as compared to other balls
Goes down the lane slowly before picking up the pace
---
If you're looking for a ball that specializes more in hooks, then you'll probably love the Columbia 300 Lit Bowling Ball.
You can get in easy hook throws at heavy oil lane conditions using this ball.
This ball has a Lit Asymmetric core with a Reflex XS coverstock. This ball uses a special type of technology that only Columbia Bowling Balls have to make things even cooler.
This is known as the Hypershock Technology, which helps decrease the recoil when it hits the pins. That way, the same energy is retained, delivering a smashing blow to all the 10 pins.
If you combine that kind of power with the ability to create an amazing hook through, then you've got a very efficient ball.
You'll not only love how it moves but also how it looks. True to the name, it has the logo of a flame with the words "Lit†written inside of it.
The ball also combines a swirly pattern with three combination colors of purple, silver, and black creating an amazing looking ball.
PROS
Special hypershock technology used to keep the energy in the ball while moving
Very high hook potential and torque
Balanced asymmetric core
Strong Reflex XS coverstock
Ideal for heavy oil lanes
CONS
Lightweight ball
May not be that good for straight balls
Not really beginner-friendly
---
This bowling ball is more specialized for dry lanes because of its slick built. Of course, it can also be used for light to medium oily lanes as well.
You have to know about this ball because it has a low RG core, allowing it to have a high flare potential. Its coverstock is a 500 SiaAir with Crown Factory Compound.
This coverstock allows it to have a strong gliding power to run through the lanes to smash the pins smoothly.
One interesting thing about this ball is that its coverstock has a UR or Ultra Responsive feature. This is similar to the previously mentioned ball's hyper shock technology because it helps retain ball energy.
However, it doesn't retain energy, as well as Columbia's 300 Lit does. Nevertheless, it's pretty efficient at keeping the ball rolling without slowing down.
One of the things we love about this ball is that it keeps a steady speed. Sure, it's not really the type that will rev up when it's going down the lane, but it doesn't really slow down while gliding.
If you're a bowler that likes consistent and steady movement from the ball, this one may suit you.
PROS
Ultra Responsive coverstock for high energy preservation
Low RG asymmetrical core
High flare potential
Strong coverstock allowing nice glide
Good for dry to medium oil lanes
Very steady
CONS
Not that known for its hook potential
Quite dull and plain looking design
Not ideal for those who want to have a heavier ball
---
A Beginner's Guide to Choosing Bowling Balls
Now, before we go over the list of the most expensive bowling balls, it's always best to start with a buyer's guide because you won't be able to appreciate the most expensive bowling ball if you don't know how to choose a ball.
That's why we'll go over some of the factors you have to consider before you pick the right ball for you.
So, here are a few things that you need to consider if you want to appreciate the most expensive bowling ball that you can find.
Weight
The first thing that you have to take into consideration would be the weight of the ball. You will base the ball's weight on your own bodyweight because you need to lift and throw the ball with ease.
The rule that most pros would give beginners is to choose a ball that is around 10% of your body weight. Pro bowlers would usually have balls that are around 15 to 16 pounds for the ease of their use.
However, bigger people would probably prefer the heavier balls. The key here is to follow the 10% rule when choosing your ball to not have a hard time.
Ball Material
You may not know it, but not all balls are made out of the same material. The type you will choose will really depend on what kind of ball shot you're trying to do.
You will either be a player that throws mostly straight shots or hook shots (balls that curve). If you're a beginner, then most likely, you'll want a polyester ball because you'll be doing more straight shots.
For those who are used to doing the curve shots, you'll want the entry-level performance balls. These are the ones that are slicker and sturdier.
They're great for hook shots and controlled throws. The most expensive bowling ball models in the market are all these types of balls.
Grip Type
The grip type refers to how you hold the ball by inserting your fingers in the wholes. There are two kinds of grip types, namely the conventional grip and the fingertip grip type.
The conventional grip types are the ones that you can usually find in the bowling alleys.
These are the types that allow your whole thumb to fit into the ball while your middle and ring fingers only reach the second knuckle.
Fingertip grips are similar, except the middle finger and ring fingers reach the first knuckle. The one that you choose will ultimately depend on what you're comfortable with.
If you're buying your own ball, you usually have to try out a few so that you'll know which type suits you the best.
Custom Drilled Balls
Another option would be to have a custom drilled ball. This means that the ball doesn't have any holes when you buy it.
The most expensive bowling balls in the world usually don't have holes so that you can make them fit your hand.
Of course, it'll cost extra if you're going to do this, which is why only very serious or pro-bowlers would do this.
For those who don't know how this works, basically, the bowling shop will measure your hand and use the measurements to drill in holes that will suit the overall shape of your hand.
If you do this, you'll be able to throw the ball with ease. So that you know, it usually takes a day to get the holes drilled in the ball. You can come back the next day after you've measured your hand.
Style
This is a bit whimsical, but it is a factor that you can add to the list of considerations to make when you look for the most expensive bowling balls.
If you're going to spend a bomb on buying a ball, then you might as well get one that's got the style.
Most of the expensive bowling balls are all well-designed with beautiful logos of their respective brands.
Later on, when you check out our list, you'll see that all of them have really stunning designs that will catch your eye.
Anyway, those are some of the factors that you have to consider when you look for the most expensive bowling balls in the world that are worth your money.
With this, you'll be able to appreciate high-cost bowling balls more because you know more about them.
Next, please take a look at our list so that you don't need to have too many choices for your purchase.
Conclusion
These are the Most Expensive Bowling Balls in the World that you can find. Aside from being expensive, they're also high-quality.
They're some of the best bowling balls that you can find in the market and are very well worth the money you've spent to buy them.
We've picked these 5 as our choices because we are pretty serious bowlers and have tried using each of these balls.
Per our experience and through lengthy reviews, we've shortlisted several brands of bowling balls to these five, which we consider the best.
As for the bowling ball that's most suited for you, you will have to be the one to decide based on the features, advantages, and disadvantages of the product.
If you would ask us, though, our top pick for the best expensive bowling ball would definitely be the Storm Code Red Bowling Ball. What we love about it is that it's very versatile and not too heavy.
In fact, it can be used by both the pros and the novice bowlers alike. Concerning weight, it's around 16 pounds but doesn't feel that heavy.
You can handle it with ease. About material, it is made out of slick material, enabling it to slide very fast. It also has a very strong but not too robust core, allowing it to have a nice torque.
Sure, it may not be that much in the looks department, but it's extremely high performance. That's why it's one of the most expensive bowling balls you'll find.