Last updated on April 3rd, 2021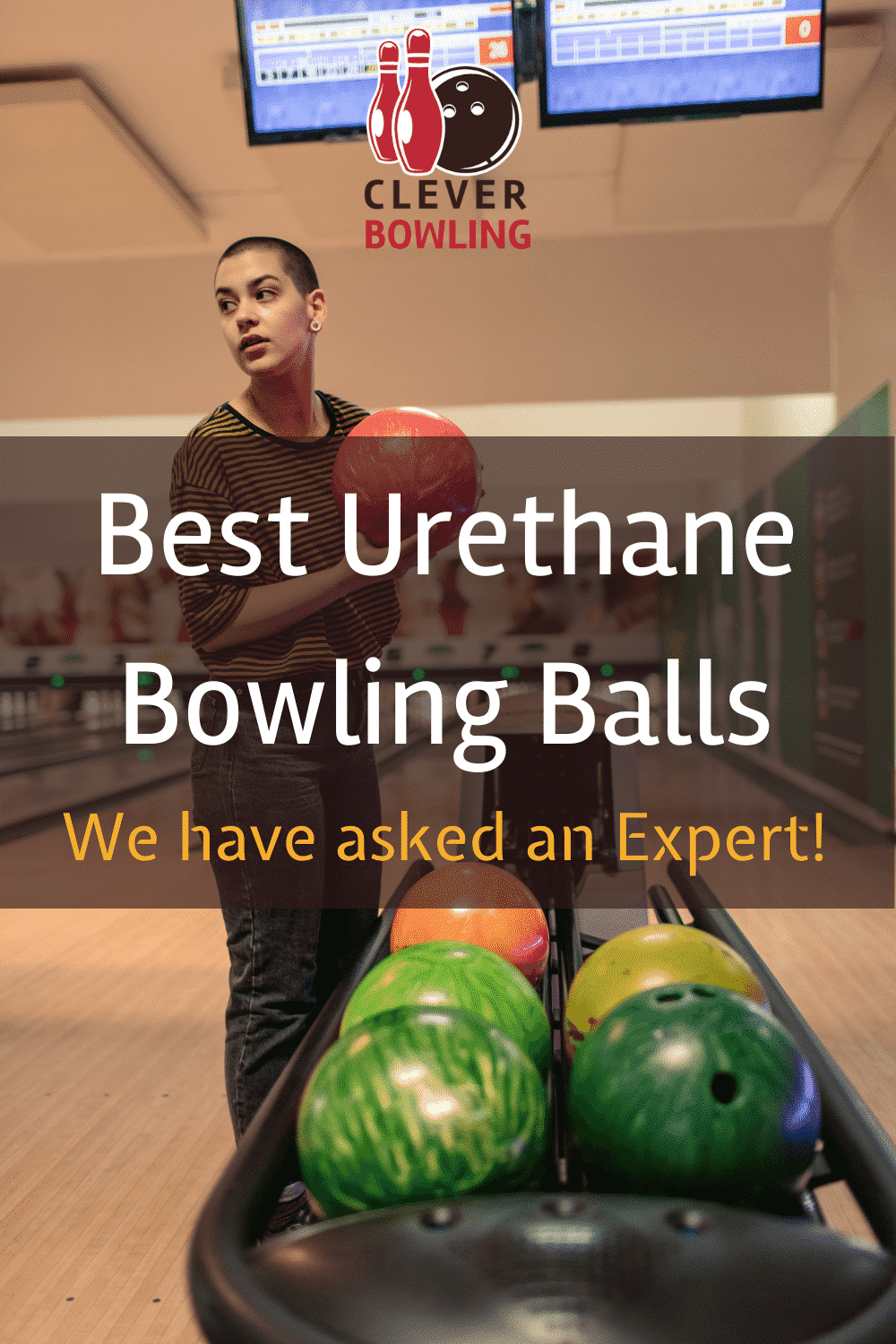 Bowling appeared in the 19th century and is today not just a recreational activity but a sport that ranks third among aristocratic sports.
When you start to practice bowling seriously to conquer scores and get achievements, you need a bowling ball of your own. To choose the right bowling ball, the materials of the coverstock should be in your first considerations.
The following will help you find out more about the best urethane bowling balls so you can pick the "ultimate ball" for your game.
---
Urethane Pearl Vs. Urethane Solid – What Are Similarities And Differences?
Similarities
Bowling ball coverstock makes a significant impact on the moving capacity of the ball on the lanes. Whether the ball will hook strong or weak, sooner or later, depends on 50% of the ball coverstock structure.
For the starters, they will usually choose plastic or polyester bowling balls. These balls are best for a straight ball shot, but unluckily, they are not very ideal for making hook shots. The advantage of these plastic or polyester balls is that they are much cheaper.
The professionals and competitive bowlers typically prefer reactive resin bowling balls. These balls are great to generate the most strong hook and strike. However, their prices are higher comparing to plastic and polyester balls too.
Luckily, players can find out that the urethane bowling ball is a happy medium. Thanks to its urethane coverstock, the ball becomes an excellent choice for starters to throw a hook. Also, the price of urethane balls is reasonable and affordable.
Urethane is the primary material to create Reactive Resin shells of bowling balls which can make strong hooks. The formula of Reactive Resin coverstock is Urethane and some special additives.
The Urethane coverstock itself is hard, so it easily generates friction with the surface of bowling lanes. Therefore, it is the ideal material for dry oil lanes.
Differences
There are two main types of urethane balls on the market today: one is a pearl urethane bowling ball, and the other is a solid urethane bowling ball.
Since they are all urethane bowling balls, they share all the commons listed above. However, they still have some differences.
The balls with pearl urethane can go a little further down the lane and have a smaller hook. In addition to that, the bowling balls with pearl urethane seem to be much more sensitive to changes in ball speed than the ones with solid urethane.
Solid urethane may be stronger than pearl urethane. Also, when rolling the solid urethane down the lane, the ball reacts relatively earlier.
Overall, pearl urethane is slightly weaker in comparing solid urethane and pearl urethane.
---
5 Best Urethane Bowling Ball for 2023
With Hammer Black Urethane Bowling Ball, producers want to bring back the well-known ball reaction in the '80s and '90s.
The pure black balls always give bowlers, hookers, or spinners interesting feelings when throwing it on the lanes and witnessing its beautiful motion and backend and how it runs in the over/under lane patterns.
The urethane cover works best in bone dry lane patterns. Its classic urethane coverstock with a rough 500 Abralon finish helps it take control of this smooth motion on entire modern lanes.
This urethane ball can make a strong hook and perfectly smooth motion or backend. Comparing to its previous version, this new one is much stronger, and it is not as sensitive to carry down as much.
Its coverstock is solid urethane. You will find it ideal for shorter patterns and dry lanes.
If you are a beginner or just the one who like to purchase an old smooth ball for your arsenal, this urethane ball is excellent for you.
PROS
Interesting coverstock (perfect for those who interest old style)
Great to work in the shorter patterns, dry conditions
Creating strong hooks with impressive motion.
CONS
Might not suit those who like colorful bowling balls.
---
After Hammer Black Urethane bowling ball, Hammer still brings another version of the ball reaction that was popular in the 80s and 90s. It is a Hammer Purple Pearl Urethane bowling ball.
Its coverstock is pearl urethane with the finish of an Abralon matte surface, so the Hammer Purple Pearl Urethane bowling ball is suitable for medium to light oil lanes.
The producers note that this ball is suitable for medium to dry conditions, but it does not work well on the dry lanes because it has a strong back-end finish.
This bowling ball gives incredible control of the entire short oil lanes due to its LED core design and the pearl urethane cover.
This ball has a beautiful look thanks to its purple pearl urethane cover. You also will find it with a smooth curve and incredible hook when you throw it down on the lanes.
In comparing Hammer Black Urethane and Hammer Purple Pearl Urethane bowling ball, when rolling, the Hammer Black Urethane reads just a little too much in the front part of the lane while the Hammer Purple Pearl Urethane can handle it.
If you are searching for a bowling ball that can tame your crazy hook, this ball is perfect for you.
PROS
Having a beautiful appearance with purple pearl urethane
Generating smooth curve and fantastic hooks when rolling down on the lanes
Reasonable price
Making a good control on the entire bowling lane.
This ball reads in the front part of lane less than other balls do.
CONS
Does not work well on the dry lanes because the ball has a strong backend finish.
---
For the bowling world, real black bowling balls are compared to mysterious bullets as they bring indescribable confidence and a unique style for bowlers on the lane.
With the hookers, the black ball moves in a curve, and it does not allow the viewer to see its swirl.
However, the viewers can suddenly see it curl and smash the pins mysteriously.
For the Spinners, these black balls seem to go straight and rip the ten pins coldly when moving in the lane. If you want to feel the same way, Storm Pitch Black bowling ball is an excellent choice for you to consider.
It is an ideal option for dry oil lanes. Storm Pitch Black bowling ball also uses a large core with high RG and low differential like some present black bowling balls. However, the material of ball coverstock, solid urethane, makes it different.
Spinners would love this bowling ball because its big core helps the ball stabilize its rotation around the vertical axis.
For the hookers, Storm Pitch Black bowling ball helps them avoid the hooker's nightmare – early hook on the dry bowling lanes (little to no oil).
The Storm Pitch Black bowling ball producers said they had made the ball with hard Urethane material and their technology.
It helps the ball go further, create friction with lanes, and control its excessive back-end motion.
Storm Pitch Black bowling ball receives many compliments as one of the strongest urethanes from the bowlers worldwide, from professional blowers (PBA) to the Asian bowlers of the world bowling championship.
PROS
Its urethane coverstock brings great control of ball movement
Smooth and powerful reaction.
The rotation of the ball around the vertical axis is very stable thanks to its big core.
It is an ideal option for hookers and spinners.
CONS
The price is not low compared to one of other urethane bowling balls.
---
One of the best urethane bowling balls that bowlers should get is the Storm Mix Urethane bowling ball for urethane bowling balls.
This ball is a great option to play in dry conditions as it is a urethane. Therefore, you also may use it as your strike ball.
The players will find it easy to control, especially on the desert dry lanes, but they will get a bit out of control when working on the bowling lanes with heavy oil.
Storm Mix Urethane bowling ball is an excellent choice for newbies in the bowling world.
The score of Storm Mix Urethane is the traditional 3-piece so that it enhances predictability. Also, its urethane coverstock offers durability that you cannot find in other materials.
Storm Mix Urethane bowling ball owns a bright and impressive appearance with a different color, as its name. It is superior to the players who are finding a colorful spare ball.
PROS
Reasonable price
Attractive, bright and colorful appearance
Working well on nearly dry lanes
A great option for starters
CONS
Getting a bit out of control when running on the roads with heavy oil.
---
As almost solid urethanes, Storm Mix Urethane bowling ball also works best on the dry lanes. For this reason, many bowlers prefer this ball as their strike balls.
Thanks to its impressive appearance, the Storm Mix Urethane bowling ball will be the best for those who love a colorful spare bowling ball.
For the new mixed ones, there are two different colors. They extend the Ice line with a modern appearance.
Like the Polar Ice line, The Mix contains the U1S first generation of Urethane coverstock.
Comparing to the U2S, which supplies power for the popular natural series, the U1S is more durable and controllable.
The core of Storm Mix Urethane ball covering traditional three pieces strengthens the predictability, while the urethane cover warrants the durability that other materials cannot provide.
For the weight, this ball serves with lighter weights. Besides the standard options with 10 – 16 pound, the Storm Mix ball also provides the ones with 6 and 8 pounds.
PROS
Having an impressive and colorful look
Offering more weight options (with lighter weights) to choose
Providing many mixed colors for choosing
Having more durable and controllable coverstock.
Working best on the desert dry lanes
---
Summing Up
In conclusion, comparing to a plastic/polyester bowling ball, a urethane one will provide bowlers more action, beautiful curves, and fantastic hooks. This ball will allow the players to have a strong hook.
These five urethane bowling balls work best in medium or dry conditions. They are also good to perform in any oil pattern.
These Urethane bowling balls serve as an excellent option for bowlers who find good ones with a strong hook and reasonable price.
We hope you will find the right ball for your level and tailor your "ultimate weapon" to your current status with the information shared in this post.